Happy 10 years of Arrow Video!

To commemorate our first decade on this planet, we've taken out our little black book and sat down with some of the best and brightest in the world of cult to talk about their personal histories with Arrow Video, and, of course their top picks from the catalogue.

In this interview we feature Olivier Award-winning actor, writer and director Andy Nyman. The co-creator behind the long-running horror stage play GHOST STORIES and director/star of its 2017 film adaptation, also known for his prolific stage work – including a current starring stint in the West End's FIDDLER ON THE ROOF –  and collaborations with psychological illusionist Derren Brown, Andy is a proven authority on the world of horror. From finding restorations of a VHS he coveted but never watched as a child, to how Arrow Video's effected his own career, Andy sheds light on his love affair with all things cult.
So sit back, relax and let Andy take you on his journey of Arrow…
A: Do you remember the first Arrow Video release you took notice of? 
AN: It was the ZOMBIE FLESH EATERS release, that had that incredible artwork. I remember it just felt really special, really complete. I felt that these were people who cared and had gone the extra mile. So that was the first one I bought, and I've kept note of your releases ever since.
A: What do you think makes high quality home entertainment important in this day and age?
AN: I am aware – and just to be clear, you're not paying me to say this (laughs) – that the DVD and Blu-ray market is dwindling, so to me what's so fantastic with what Arrow does with its restorations, premium packages, double artwork and all of that, is that you not only elevate what's out there but you also introduce so many films to people who would otherwise never have heard of them. I mean there are so many films within Arrow that I just didn't know, which you then get and think wow, that's really something.
So I'm sort of in awe of the releases, and the leap of faith that they require. There are certainly some that are a shoo-in, like THE THING for example which hopefully always does gangbusters for you and then allows for some of the more obscure films to be released. It's really heartening, and I always look forward with interest to seeing new things.
A: What do you think makes Arrow Video particularly stand out as a distribution label?
AN: One of the reasons I always loved DVDs when they started coming out was the extras, especially as I've come to be a filmmaker myself. RONIN was one of the first commentaries I ever listened to where it really felt like the director John Frankenheimer was telling you how to make a film. That was just amazing to me – that you could have these incredible filmmakers teach you for just £9.99. There's a great quote actually that you have in your 10th Anniversary booklet from Quentin Tarantino – "Why go to film school when you can go to films?" It was brilliant, I read it to my son! So that's where Arrow to me truly excels, it's always an abundance of extras.
And whenever Arrow puts something out you always feel like it's the definitive, complete version of that film. You check it off your list: 'Done, don't need to shop for that film ever again'. If I ever bought one and there were just a couple alternative trailers or something on it, I would be very surprised – because they never have been like that. You always feel that the effort's been made.
A: Would you ever buy a film just because Arrow's released it? Would you say that there's a certain brand or personality behind us?
AN: Oh there's totally a brand. If Arrow have released something, and I don't know what it is, I'd consider giving it a shot in a way I wouldn't with any other distributor. And then there are your new releases as well, finding festival gems that otherwise wouldn't see the light of day. I love that there's a mix of reintroducing films that people won't know, as well as the great cult movies that need the sprucing up you give to them like OLDBOY, and then there are all the new releases that you just can't get a hold of anywhere else.
And to actually own them as well; I know it's old-fashioned, but I'll always choose a Blu-ray over streaming. I want something that I can hold and pass on to friends and family – though admittedly that does cause problems with shelf space. Thank God for charity shops, though then the classic thing is you go to a charity shop to give away all your old DVDs, start browsing and end up leaving with more than you came in with!
A: Do you think the fans of Arrow Video connect in their love of the brand, in the same way fans of a particular Kurt Russell movie for example might do?
AN: I do. At Arrow Video FrightFest for example, there's always such a buzz around the Arrow Video stand. It feels like Arrow Video's an extension of that FrightFest family - there's already such a bonding in genre because you are aware that some of it is specialist and some of it is not to everyone's taste, so when you find someone else who's passionate about it it's great. So that's another thing I love about Arrow Video, it feels like you are passionate about the film. There's too much of an investment into each release for it not be fueled by knowledge and excitement and going the extra mile, so you respond to that as a customer – you respond to the fact that there's some love behind it all.   
A: Out of the last 10 years since the birth of Arrow Video, what would be your top 10 desert island picks? 
AN:
A: What makes these 10 stand out in your view?
AN: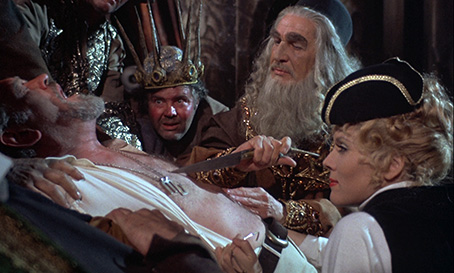 That's one hell of a top 10 – more than my top 10 Arrow Video films, this is almost my top 10 films!
A: If you had to recommend Arrow to someone who's never heard of us in one line, what would you say?
AN: If you love films, or are interested in films, and want to start a Blu-ray collection, then Arrow's the best place you could possibly start, because what you get with each release is passion and extraordinary extras you won't find anywhere else; you'll find films that will make you laugh, wince, scream, jump up and down with excitement, and things that you would never ever have a chance of finding anywhere else, certainly not in better released versions. 
So Arrow to me is like a bastard movie school – that's what I would say.
© 2019 by Andy Nyman. All rights reserved.