Perhaps the biggest misunderstanding about exploitation and horror film is the fact that so many assume these genres offer little for women. From the outside looking in it appears to be a masculine world; made by men, for men, where women are nothing more than titillation, or bodycount fodder. The truth, of course, is an entirely different matter.
As a female film critic who works predominantly in these genres, I am often asked why? Why would I want to align myself with an industry that cares so little for women. And my answer is always the same: well, I am a fan; and always have been. Because the thing is, it was horror and exploitation film that gave me strong female role models, when mainstream cinema offered me none. Growing up in the seventies and eighties, it was the likes of Jamie Lee Curtis (Halloween, 1978), Sigourney Weaver (Alien, 1979), and Margot Kidder (Black Christmas, 1974), who taught me all I needed to know about what it meant to be a strong woman. As I got further into the genre, and discovered this was just the tip of the iceberg, I found it was littered with ball-breaking, kickass women, who didn't suffer fools, and who inspired the hell out of me. Quite a different world to the one peddled in romance obsessed chick flicks.
It's International Women's Day, which seems like the perfect time to celebrate some of the women who have made the genre what it is today. So join me, as I select ten films, and their leading ladies from Arrow's diverse back catalogue, who I think represent the spirit of the day, and female empowerment in general, perfectly.
Pam Grier: Coffy (1973)
If there's one woman who personifies the spirit of female independence, strength, with a ballsy take no prisoners attitude it's Pam Grier. The actress got her real break working with Jack Hill, for producer Roger Corman New World Pictures' The Big Doll House (1971) and The Big Bird Cage (1972) — a duo of incredibly entertaining Women in Prison films — before moving on to become the female face of the short, but oh-so-sweet, cycle of seventies blaxploitation pictures. Coffy, again with director Jack Hill is perhaps the actress' most stand out picture. Alongside Foxy Brown (1974)  it is essential blaxploitation viewing. Featuring as the titular character, Grier plays nurse by day, Amazon vigilante by night, as she sets out to avenge the death of her sister, who died as the result of a drug overdose, by tackling the lowlives she believes are responsible. Coffy has no qualms about running down pimp King George, by infiltrating his inner circle. Despite the huge, largely male muscle, ensemble around him for protection, she proves he is no match for her. Her revenge is righteous, bloody, and filled with explosive sharp, endlessly quotable one liners.
Start your Badass Women of Arrow Video Collection with Coffy here.
Sissy Spacek: Carrie (1976)
Based on Stephen King's seminal novel, Brian de Palma's 1976 adaptation to film remains one of the most highly rated horror films of all time, when you take into account the incredible layered, and emotionally wrought performance from star Sissy Spacek. In many ways Carrie is a story to which we can all relate because it is portrayed so sympathetically through Spacek's nuanced performance: the tale of a strange girl, who has been sheltered by her mother's mental illness (and belief all men are evil) and who is bullied by her classmates, until she is eventually pushed to the brink by their cruelty. It just so happens that she is also a girl who is exploring her newly acquired power of telekinesis, which becomes a deadly force when things go too far. The film also features strong themes of child abuse, religious mania, and mental illness; as well as exploring a coming-of-age narrative, and all the awkward issues that run alongside it, from that first period, to the first kiss. The punchline is both horrifying and heartbreaking.
Start your Badass Women of Arrow Video Collection with Carrie here.
Edwige Fenech: Your Vice is a Locked Room and Only I Have the Key (1972)
When it comes to the Italian giallo — a cycle of bloody murder mystery films, which boomed during the first part of the seventies — there can only be one queen: and her name is Edwige Fenech. There are many other memorable actresses associated with the subgenre, from the star of forerunning giallo films Carol Baker, to Anita Strindberg, Barbara Bouchet, and Ida Galli (to name but a few), but it is Edwige who owns the crown. The reluctant star — reluctant because she fell into the genre almost by accident, prompted by her soon to be partner in business and love, producer Luciano Martino, and his brother director Sergio — is nothing short of a giallo icon, delivering a series of performances that combined a unique mix of delicate vulnerability and primal sexuality. Your Vice is a Locked Room and Only I Have the Key — a very loose adaptation of Edgar Allan Poe's The Black Cat — is one of the actress' most interesting performances in the giallo overall. Playing against the type found in her earlier gialli — The Strange Vice of Mrs Wardh (1971), and All the Colors of the Dark (1972) — Fenech features as Floriana, a scheming bisexual cousin, who arrives in the household of Oliviero (Luigi Pistilli) and his violently abused wife Irina (Anita Strindberg), and sees the opportunity to use their marital strife as a way for her to clear up what's left of the family fortune. The film mixes strong themes of Gothic horror and sadism, with Fenech standing out in her supporting role.
Start your Badass Women of Arrow Video Collection with Your Vice Is a Locked Room and Only I Have the Key here.
Asami Yamazaki: Audition (1999)
Across the board, director Takashi Miike has almost always had something interesting to say about the subject of gender in his work; especially in the way he approaches masculinity. The filmmaker often goes against the grain of Hollywood's mythical but fairly shallow male Action hero, to present much more complex characterisations of his leading men, and ones which are often seen as poking fun at, or deliberately subverting, or even critiquing common conceptions of the masculine ideal. When you take this into consideration, as well as its central themes, Audition has been taken by many to be a feminist film. Not everyone would agree, but there is no denying the fact that the film gouges a ten foot hole through the facade of male privilege, in its telling of the story of a widowed man who uses his media connections — under the rouse he is looking for an actress — to lure in the girl he thinks is his perfect woman to take over from his deceased wife. The woman he finds — played by Yamazaki — appears to be the epitome of feminine servitude. She is submissive, almost mute, enchantingly beautiful, and could be ideal, if it wasn't for the fact that beneath the surface she hides a deadly secret. Yamazaki's almost silent portrayal of her character is one of the very best to come out of the J-horror cycle, in a performance that sets out to shock, and still does, even twenty years later.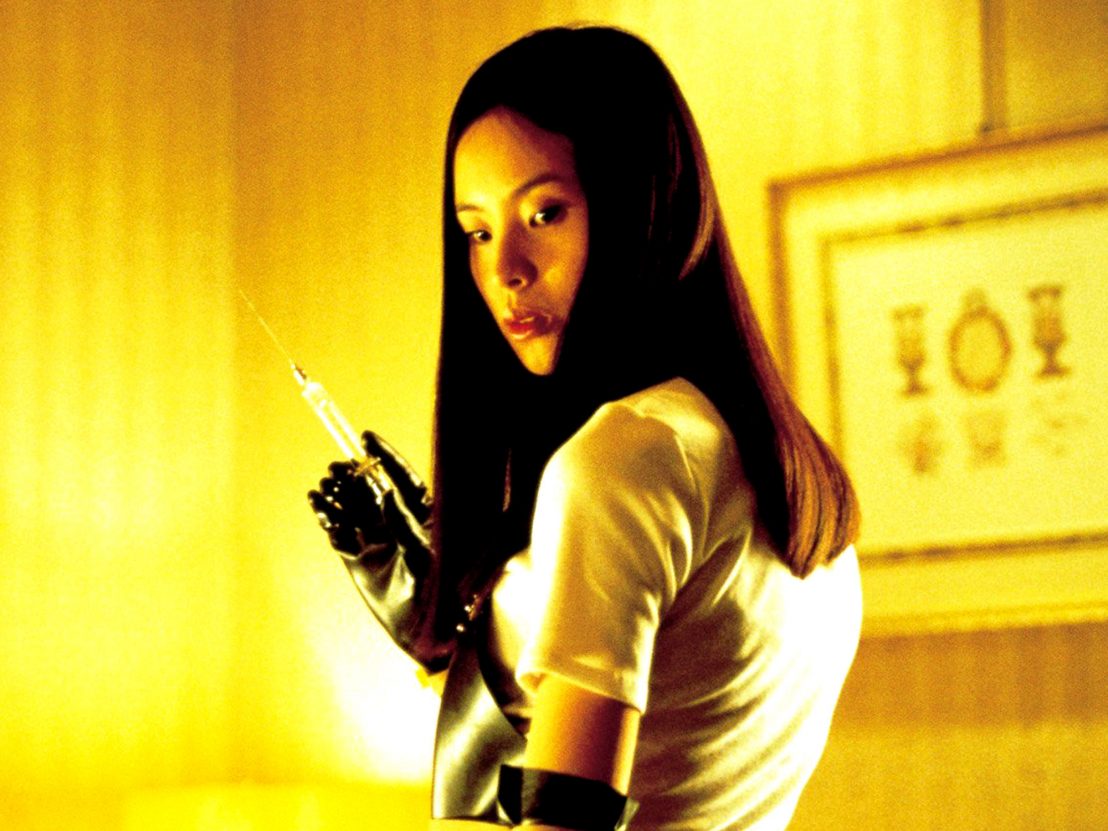 Start your Badass Women of Arrow Video Collection with Audition here. 
Anulka Dziubinska, Marianne Morris: Vampyres (1974)
While the vampire on screen was overwhelmingly male for the first several decades of the twentieth century, by 1970, and mainly due to the success of Hammer Horror's The Vampire Lovers — based on Sheridan le Fanu's novella Carmilla (1872) — the gender divide started to shift. As a result there was an outpouring of female-led vampire films; many with themes of lesbianism, from cult filmmakers like Jess Franco and Jean Rollin, to American independents Stephanie Rothman, or Belgian arthouse directors such as Harry Kümel.Spanish director Jose Larraz, working in England at the time, was another one to mine this vein — quite literally — with his brooding, but incredibly bloody and perverse Gothic number Vampyres (1974). Stars Anulka Dziubinska and Marianne Morris feature as lesbian vampires, who lure unsuspecting men into their creepy old mansion so they can feed off them. Given that the film was made on British soil, it presents itself as more in line with the European features being made around the time, in terms of its sex and violence. The two leading actresses both put in extraordinary performances — which were certainly not for the weak willed — when it comes to the sheer primal force, and blinding libidinal energy that underpins them.
Start your Badass Women of Arrow Video Collection with the Blood Hunger boxset here. 
Margot Kidder: Sisters (1972)
The second Brian de Palma film to appear on this list is his overtly Hitchcockian early masterpiece Sisters (1973), which becomes somewhat ironic when you consider he is a filmmaker who has been accused of misogyny in his work over the years. Starring a then unknown Margot Kidder in one of her first breakout roles, the film is as nuanced and complex as the aforementioned Carrie (just in a very different way), which again comes down to the sheer power in Kidder's on-screen energy. Kidder plays a fashion model Danielle Breton, who has travelled from Canada to find her fortune in the US. We meet her when she appears on a television reality show. After taking home a man she meets while filming the show, she viciously stabs him to death in her apartment after sex, which is all witnessed by a neighbour (Jennifer Salt, who is equally brilliant). What's really interesting about the film, outside of de Palma's homages to Hitchcock — via nods to Rear Window, and Rope in particular — is the way in which it plays with gender: covering themes of marital abuse, sexual coercion, mental illness, the fact women are rarely believed in society, and violence provoked from trauma. Kidder was a force of nature, which is clearly evident even this early on in her career.
Start your Badass Women of Arrow Video Collection with Sisters here. 
Millie Perkins: The Witch Who Came From the Sea (1976)
Talking of violence provoked by sexual trauma, probably the most obscure film on this list, and therefore one that is begging to be seen, is the strange independent horror: The Witch Who Came From the Sea (1976), which is one of those films that inhabits an odd offbeat universe all of its own when it comes down to mood and atmosphere. At the centre of the story is an incredibly damaged and fragile woman, who has been so traumatised by past abuse, that she kills men, and invents a fantasy world to shield herself from her own derangement. The film, directed by Matt Cimber, has a rough-and-ready low budget quality that feels fitting to the film's overarching sleazy themes, all of which could crash down as tone deaf, if it were not for the beguiling, weirdly detached aura exhibited by its central star Perkins. While not an experienced actress she clearly makes her mark here, making the film a worthwhile watch for those who like their horror on the surreal side.
Start your Badass Women of Arrow Video Collection with The Witch Who Came In from the Sea here. 
Jan White: Season of the Witch (1973)
Director George A. Romero made no secret about the fact that he felt his Season of the Witch was a feminist film, and I am inclined to agree with him. The film examines — through the story of dissatisfied housewife Joan Mitchell (Jan White) — how witchcraft and dealings with the occult became a refuge for women seeking power in the seventies, away from traditional wife-bound gender roles. When she is first introduced, it becomes apparent that Mitchell's life has become a living nightmare, filled with drab mundane housewifely duties, as she yearns to escape from a life of servitude and lack of fulfilment. Sick to the back teeth of a violent, uncaring, a distant husband, the woman eventually finds escape through the rites and rituals of old magick; which ultimately provides the release her previous therapist and conventional medicine, are unable to help her with. White puts in a credible turn as Mitchell, remaining sympathetic throughout her journey for freedom, and individuality, away from the confines of traditional marriage, and into a life that is made for her alone. Plus, the film's sly ambiguous ending gives a big fat finger to patriarchal convention.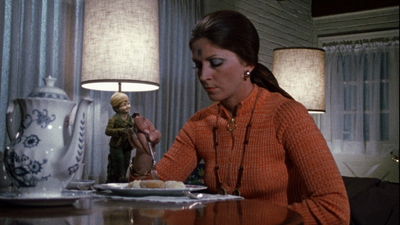 Start your Badass Women of Arrow Video Collection with Season of the Witch here. 
Nanako Matsushima: Ring (1999)
Hideo Nakata's seminal J-horror Ring has been enjoying a theatrical re-run after twenty years, thanks to a new restoration by Arrow. From recent reactions from first time viewers, it appears the film has lost none of its power. It just so happens that a lot of that power is drawn from female energy, and according to Nakata he wouldn't have had it any other way. The story is well trodden now, churned out in derivatives from likeminded J-horrors, to remakes, sequels and prequels, but put in simple terms: teenagers find a supposed cursed video tape, which results in their death seven days after viewing. Only, it's not that simple. Nakata loads the narrative with some incredibly dense themes, from single parenthood and the breakdown of the modern marriage (a key theme in his later film Dark Water, 2002), to child abuse, ghosts, and murder. Matsushima stars as Reiko Asakawa, a fiercely independent investigative journalist, who after hearing about the tape, because her niece dies in mysterious circumstances, decides to follow the story herself. It doesn't take her long to find it, but what happens afterwards becomes a race against time, not only to save herself, but her young child too. It is these dramatic qualities, and the way in which Matsushima interprets them, which explains the enduring legacy of the film that proves to be as bittersweet as it is genuinely terrifying.
Start your Badass Women of Arrow Video Collection with Ring here. 
Meiko Kaji: Female Prisoner Scorpion 701 (1972)
No female power list on cult cinema would be complete without at least one mention of Meiko Kaji. Like the aforementioned Pam Grier (and Tura Satana for that matter, who sadly can't appear on this list) Kaji remains one of the most powerful women in exploitation cinema; emulated by many, rivalled by so few. There are a number of her key films I could have chosen from Arrow's catalogue for example Lady Snowblood (1973) and its sequel, Blind Woman's Curse (1970), both of which see Kaji play fierce samurai warriors. Likewise I could have chosen Stray Cat Rock: Sex Hunter (1970), where she stars as a gang leader. But for me, it has to be Female Prisoner Scorpion 701, and in fact all of its Kaji fronted sequels in the consequent Scorpion series. The reason for this, put simply, is it's my favourite, although it's a tough call to make, as I have never seen a Meiko Kaji film I haven't loved. The film follows the plight of Nami Matsushima (Kaji), a woman who is unjustly imprisoned, after being used as a moll to infiltrate the yakuza, where she is brutally raped. The rest of the film, and its sequels, follow her impending escape and struggle to stay alive. There was something uniquely stoic and strong about Kaji in any role she played; a quiet dignity that lent everything she did a particular weight. Her role in the Prisoner Scorpion series is a good example of Kaji at her very best. The film covers some uncomfortable ground such as themes of rape revenge, but through the performance of Kaji it becomes an inspiring watch. The film never glorifies the male violence it portrays and keeps you on Scorpion's side every painful but gloriously empowering step of the way.
Start your Badass Women of Arrow Video Collection with the Female Prisoner Scorpion Collection here. 
From Coffy to Carrie, start building a library full of badass women, to inspire now and for generations to come. 
© 2019 by Kat Ellinger. All rights reserved.